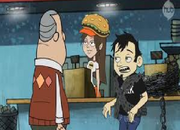 Hortense (voiced by Grey DeLisle) is the girl who works at Burgerphile and Dan's former love interest.
Appearance
Edit
Hortense wears what seems to be the female version of the Burgerphile uniform: Orange shorts and a plain shirt t-shirt with a hamburger image on it, complete with an oversized burger baseball hat. She has long brown hair, dark eyes, and freckles. She also appears to have pointed ears.
In The Wedding, Hortense's new uniform is an orange suit jacket over a white top, and chocolate colored pencil skirt and pumps.
Biography
Edit
Romancing with the Enemy
Edit
In Dan Vs. Burgerphile, Hortense's self serving boss tries to talk Hortense into using her relationship with Dan to manipulate him into leaving the restaurant after her boss intentionally got Dan's order wrong. The boss says she can become assistant manager if she can get Dan to leave. But Hortense would never cross Dan because she likes him so much. Disobeying the manager's orders, she decides to join Dan in protest, especially since her boss wouldn't let her correct Dan's order.
Because Hortense did the right thing, the owner of Burgerphile, Mr. Burger, rewards Hortense by promoting her to regional manager at the Burgerphile corporate headquarters in Santa Monica, 20 miles away from the Burgerphile restaurant near Dan's neighborhood.
She later returns to Dan's Burgerphile as the Regional Manager and announces she is to be married to the owner of the Burgerphile chain, Jeremiah Burger, which drives Dan insane with jealousy. He tries to crash the wedding but fails to win her heart.