Dan Vs. The Wolf-Man
Season 1, Episode 2
Production code
102
Air date
January 1, 2011
Written by
Chris Pearson
Dan Mandel
Directed by
Chris Pearson
Dan Mandel
Episode guide
Previous
Dan Vs. New Mexico
Next
Dan Vs. The Dentist
Dan Vs. The Wolf-Man is the 2nd episode of Dan Vs. season 1.
Synopsis
Edit
After Dan's car is damaged by an unknown animal, Dan concludes that the only possible culprit is the Wolf-Man, and vows revenge.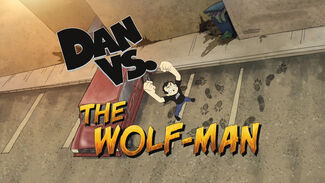 The image gallery for Dan Vs. The Wolf-Man may be viewed here.
Transcript
Edit
For a full transcript of Dan Vs. The Wolf-Man, click here. Dan: I Can't Believe How Much I Hate Everything supermodel: hi! I Just Walk On Next Door. I'm A Supermodel Dan: I Dont Care Who The IRS sense. I Am Not Playing Taxes supermodel: Your So cute And Clever! will You Kiss Me. I'll Make You Pancakes Dan: Oh Come On! Dan: Almost Taste With Pancakes Dan: Huh Uungh! AHHHHH Dan: ARRRGH! no Supermodel!!!!! NOO PANCAKES Why Can I Wake Up for this Dan Huh! my Car. Three Long Scrathes! course Grey Fur! Pawprints. deductive Prints lives Me To the one magical Pawprints
Dan: WOLF MAN!!!!!!
Memorable Quotes
Edit
Dan and Chris are sitting in a cell after terrorising trick-or-treater.
Dan: This is much nicer than the last jail I was in.