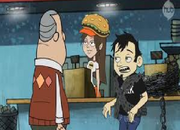 Dan Vs. Burgerphile is the 20th episode of Dan vs.
Dan and Chris go to a fast food place called Burgerphile.Dan is unpleased with the order he got and wants revenge.Dan eventually likes one of the employees that work there .
Dan has a love interest in this episode.
The Manager name,Jeff is base on the actor who voice him, Jeff Bennet.